Now completed.. thanks for your patience!
Pictures from the Best Cruise EVER!!!
The 2005 Caribbean Cruise with our friends from GE and IXYS!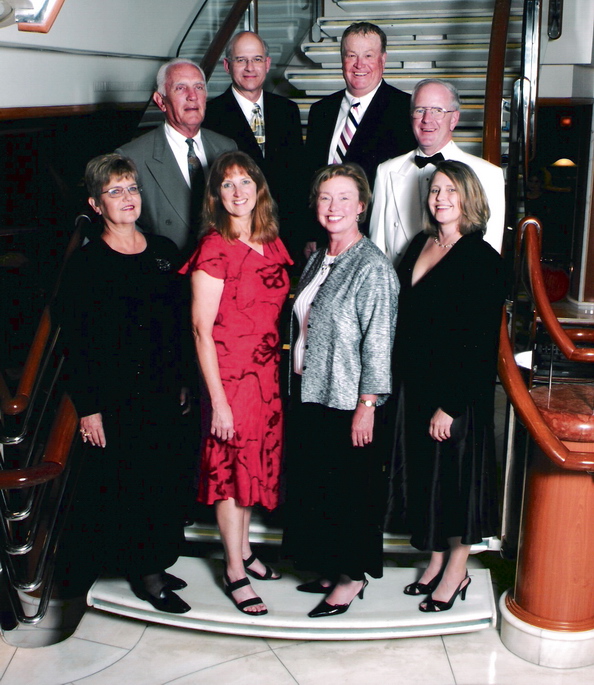 The cast of characters from left to right, front row.. Jan, Eileen, Claudia
(aka Hillary C.), and Janet. Back row - Kent, Rich, John, and Joe.
It started with an idea that we had late last year, to get a cruise together with good friends from GE days in New York that we hadn't seen in years (in the case of John and Claudia - 23 years!). It also had to include Jan and Kent (we've been trying to get Kent on a cruise ship for years, but he always chickened out!) Well, things came together in the spring of 2005 and we all signed up for a 7-day Caribbean cruise sailing out of out of Ft. Lauderdale on Oct. 30, 2005. John thought I was crazy suggesting that time of year, since that was still in hurricane season. I think I called him a wimp... c'mon, give me a break.. what was the chance of a hurricane shutting down the Caribbean. Well, after New Orleans shut down, Eileen and I became frequent visitors to the internet weather reports.
D'oh.. this turned out to be the worst hurricane season in recorded history and two days before the cruise, we were all scrambling to find motels in Ft. Lauderdale that had electricity (Joe and Janet were lucky.. they were outside the affected area with Joe's cousin, Uncle Bill (that's right... Uncle Bill). Kent and Jan were lucky, the Holiday Inn that they were booked in was open and 100% operational. The Comfort Inn that we booked a room at was closed until the day before we arrived, but they were able to snag a generator and they told us to come on down. I talked to John and Claudia that day and recommended that they try our motel after John said that theirs kept giving them a busy signal.
So, the adventure started on the first night. Much of Ft. Lauderdale didn't have electricity and gasoline for cars was scarce. We did have electricity, but no hot water. Nothing like a cold shower to wake you up! Dinner that night was goldfish crackers and pretzels that we didn't eat during the flight.
Well, the Star Princess did sail and we had a great time. I'll post some pictures and describe some fun parts of the best cruise EVER!!
Day - 1 The Ft. Lauderdale experience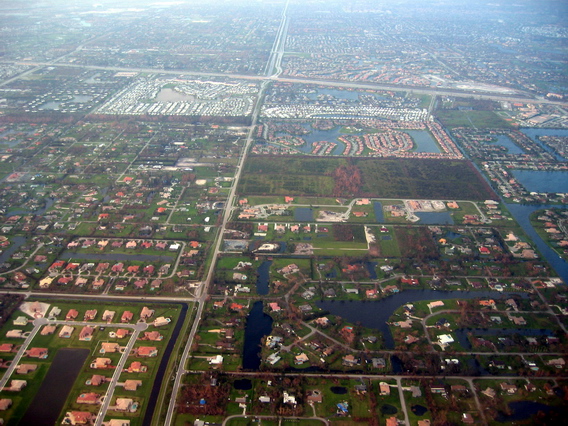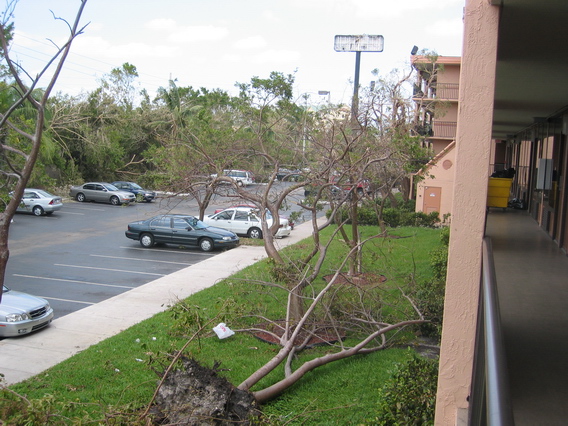 Flying into Ft. Lauderdale.. things are looking pretty wet down there.. Damage at the Comfort Inn where we spent the night before cruising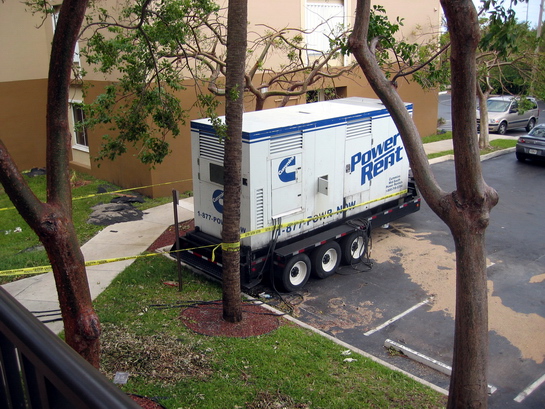 Thank God for generators...electricity but no hot water
Day - 1 We set sail....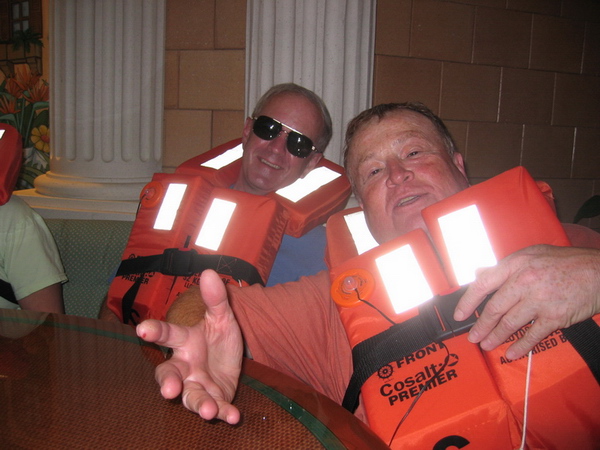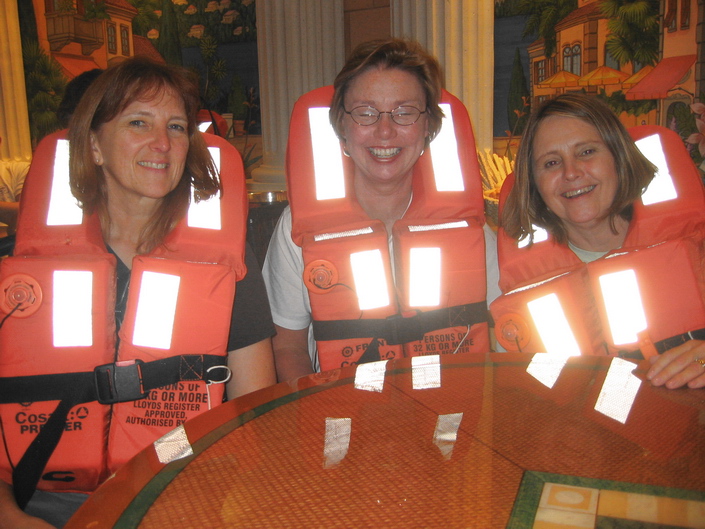 Scenes from the the life boat drill... We felt really safe when the recorded message stopped mid-drill and started over again...from the beginning.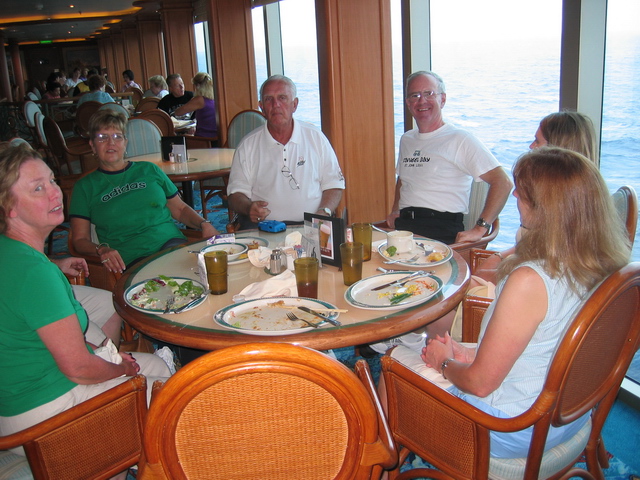 Stretching our stomachs for dinner....
Day - 2 A day at sea...
The weather was overcast, but we didn't care... we were cruising! The shops were open, the casino was open.. and the food areas were open! Kent, Eileen and I hit the treadmills at 7 AM. Unfortunately, that didn't make much of a dent in the 5,000 calories a day we were taking in. We decided to take in the art auction (boring!... but they served free champagne) and then went on to wine tasting.
We began noticing large numbers of large, pierced, extremely hairy men hanging out affectionately in the rear (no pun intended) of the ship near the bar and one of the pools. Turned out we were fortunate enough to have booked on the same cruise as the "Bears", an organization of large hairy gay men. For more info, see www.bearvoyage.com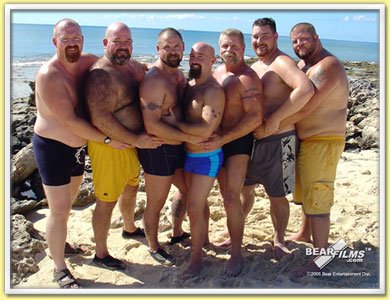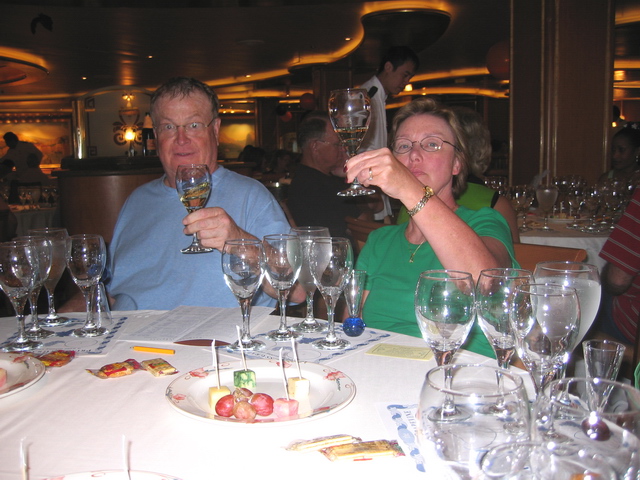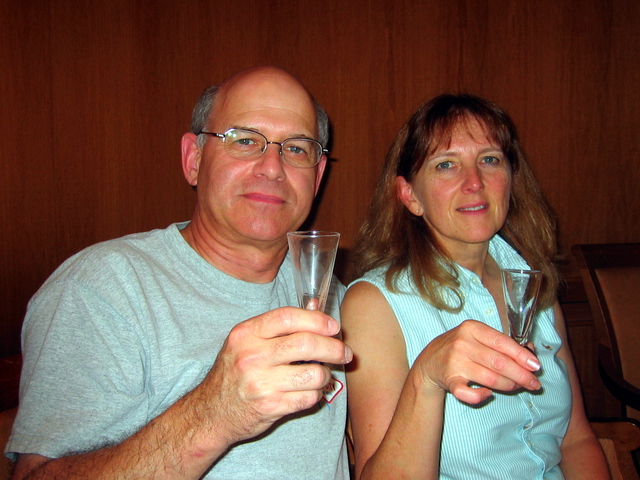 After five glasses of wine, it's all good...right John? A little of Dramamine mixed with a little liqueur.... what's not to like?

Waiting for our turn to get our picture taken on formal night. What would Halloween be without some Bears in drag?
Day 3.. Cozumel... well kinda..
Seems like Hurricane Wilma did a number on Cozumel and there was nothing left for us to visit there. Instead of offering us another port to visit, Princess decide for us that we'd rather just drop off supplies and then motor on to Grand Cayman island. So, Princess, how about letting us share some of your tax credit for the donation to the people of Cozumel since you had your passengers pay for it, you cheap bastards! (Sorry.. I just needed to get that off my chest.)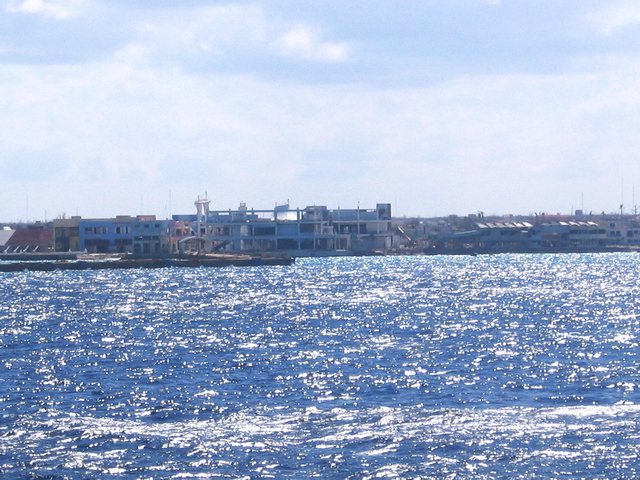 This is as close as we got to Cozamel. :-(
Grand Cayman Island
Thankfully, Grand Cayman was spared the fury of the hurricane and with partly sunny skies we rode the tender to shore. It was a hot day in paradise (t-shirt and useless souvenir paradise) and we cruised around the downtown area looking for t-shirts and a cool one before heading back to the ship. Check out the picture of LaVerne and Winnie, a mother and daughter from Minnesota, who we met one night at a show on board and who we kept running into throughout the cruise.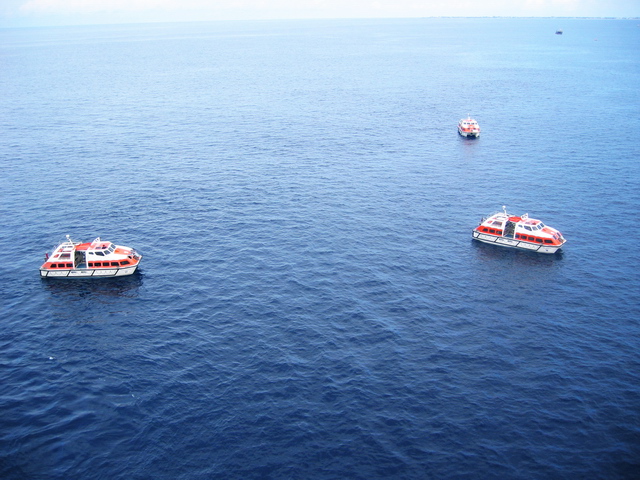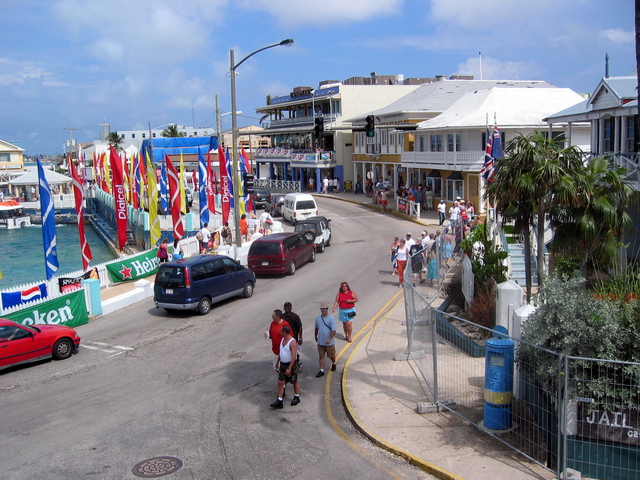 The tenders start lining up to take us to the island. The tourists have landed.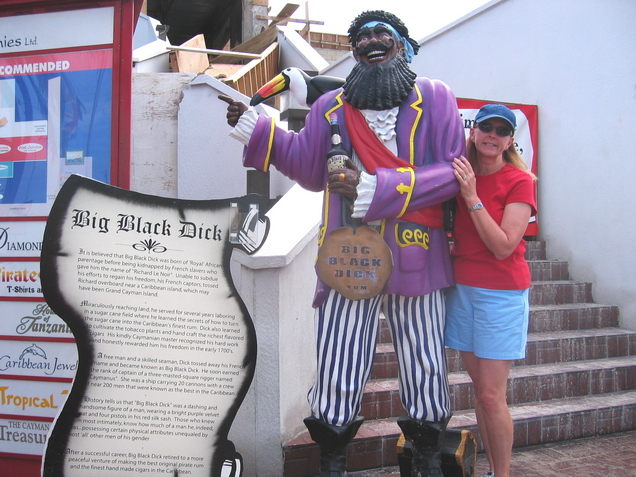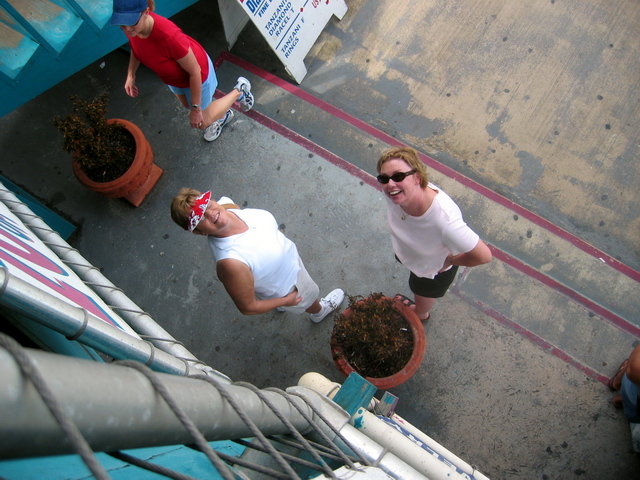 Eileen standing by a Big Black Dick (sorry.. I couldn't help it). Jan and Claudia waiting for us to finish buying t-shirts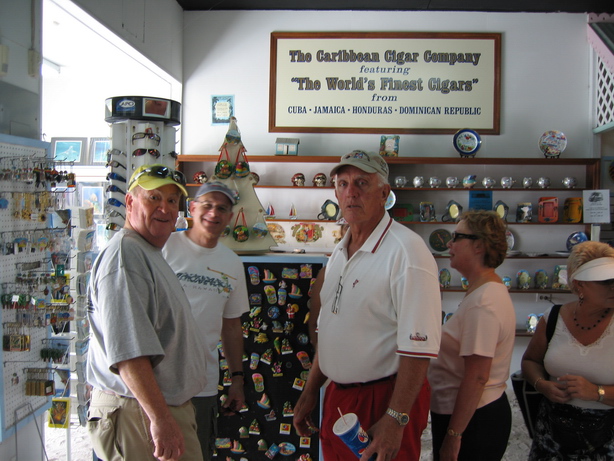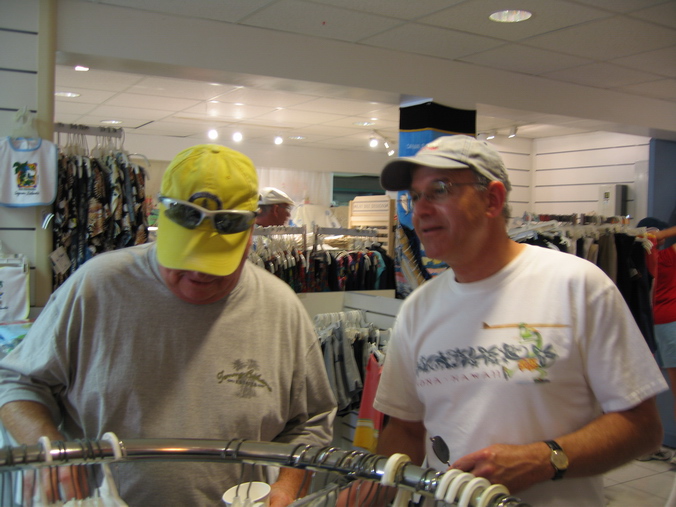 Looking for island bargains....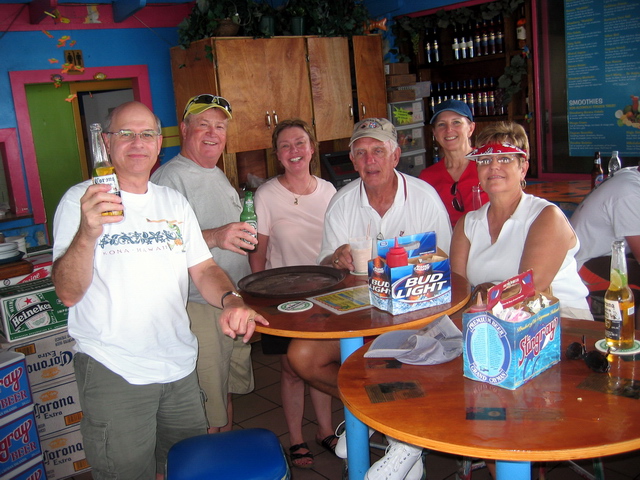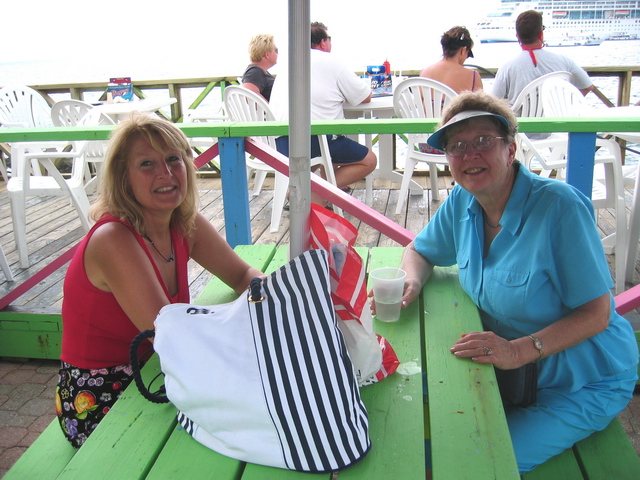 Stopping for a cool one before heading back to the ship Our new friends from MN, Winnie and Laverne!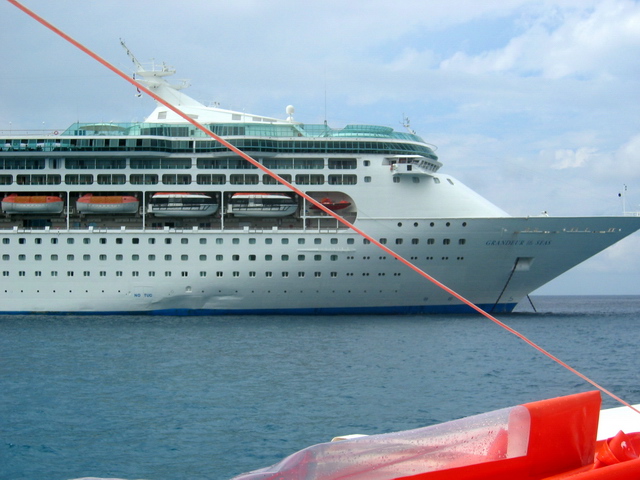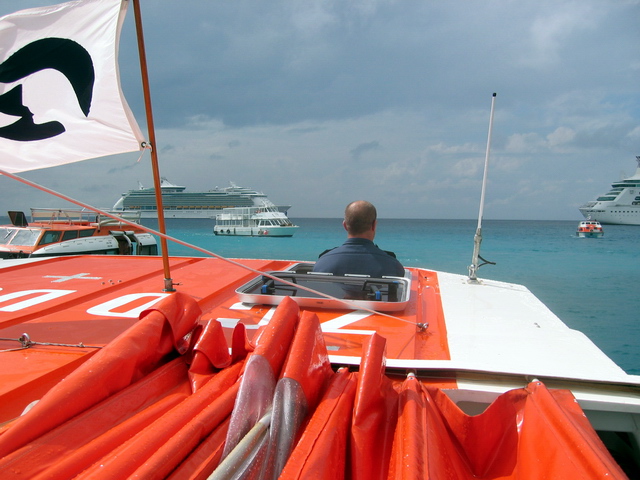 The Grandeur of the Seas with a big dent in her side.. "ouch" Never have to worry about cleaning the windshield on these tenders
Ocho Rios, Jamaica-mon!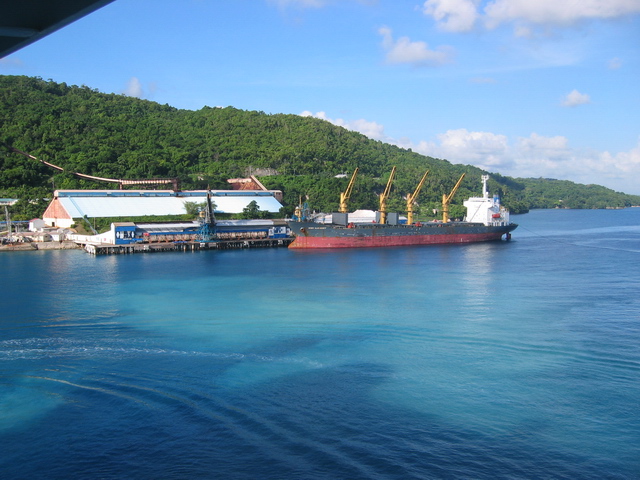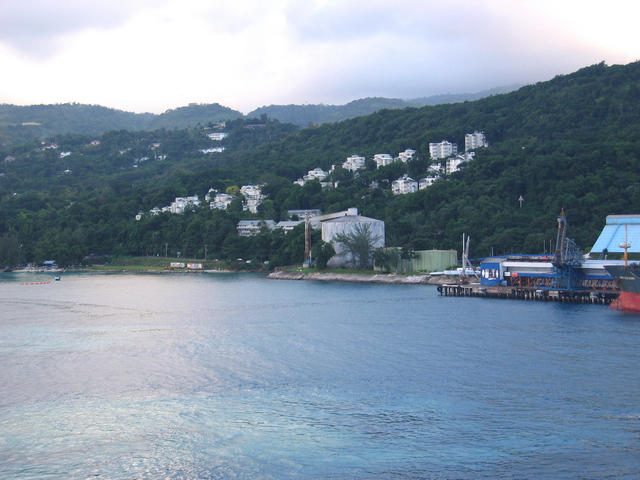 Views of the port of Ocho Rios from our balcony stateroom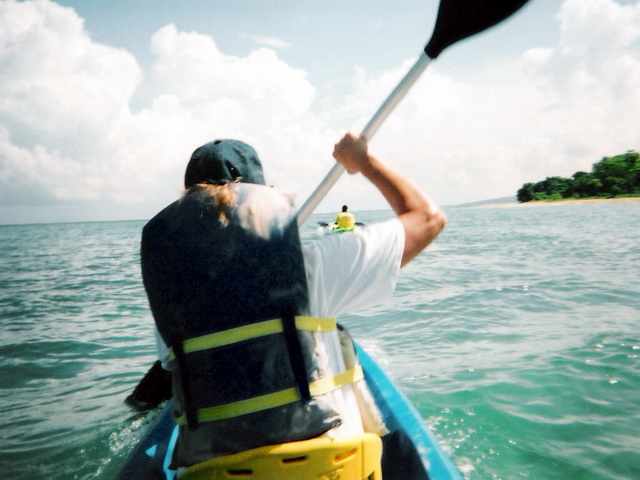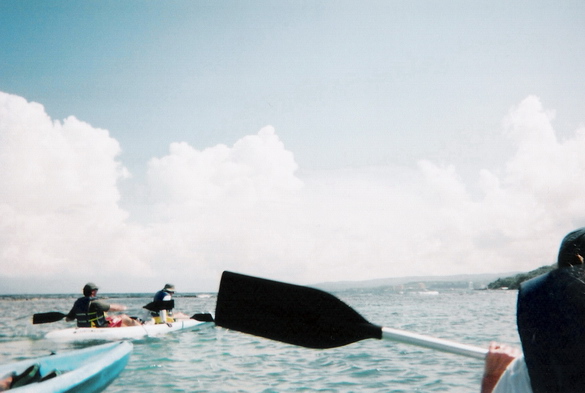 Our 2-person ocean kayaking adventure... do you think Eileen noticed when I stopped paddling to take these pictures?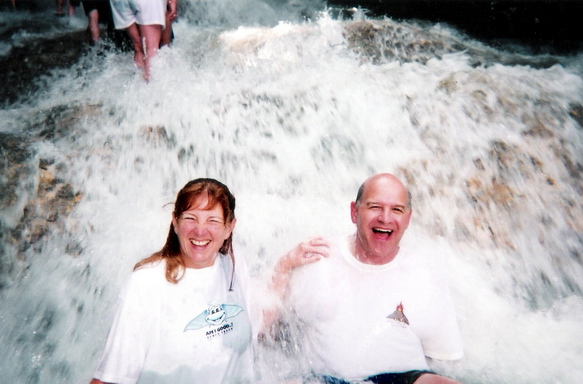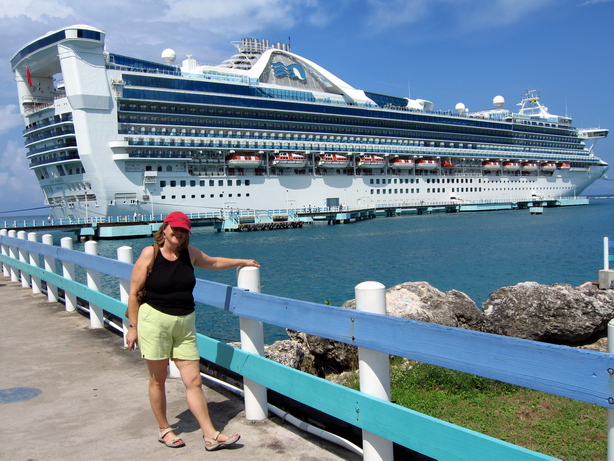 Getting a little wet during our climb of Dunns River Falls Janet and the Star Princess
Another day at sea...
Who says it's boring at sea? Nothing like a culinary talk and a galley tour to get ready for more food...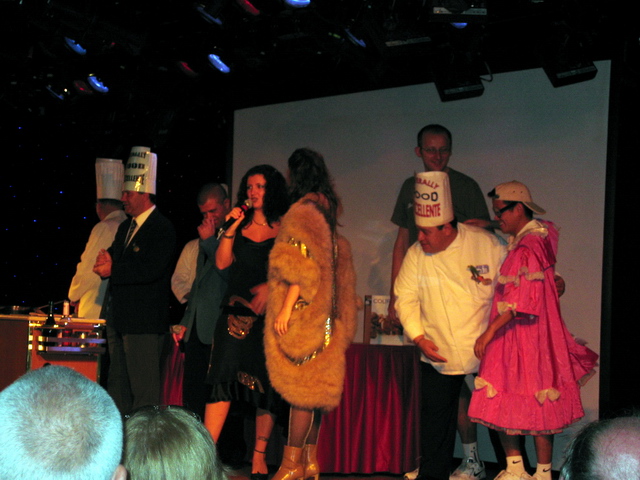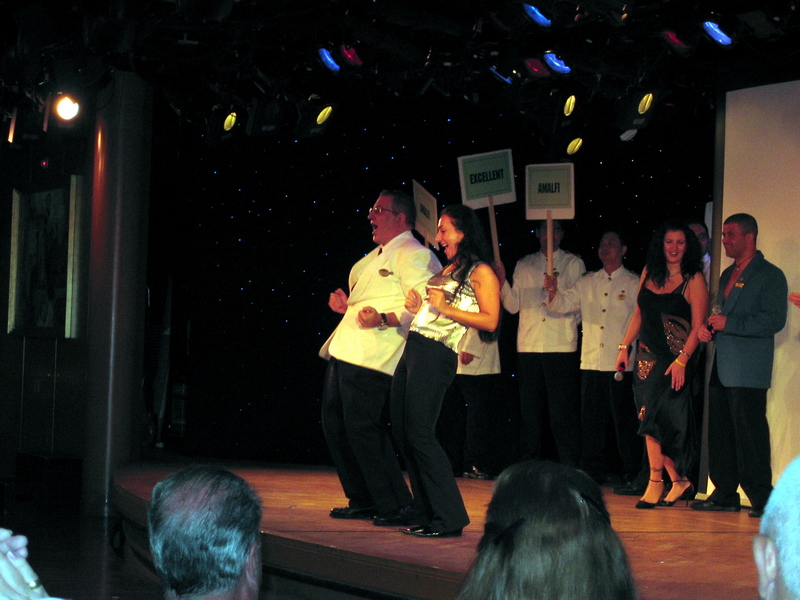 And I thought this was going to be a BORING food talk. Our Maitre'd thrusting on stage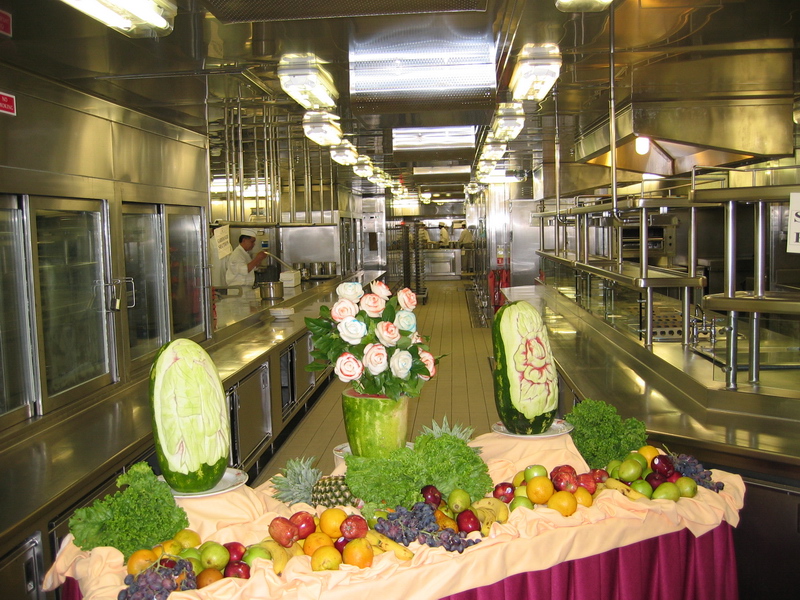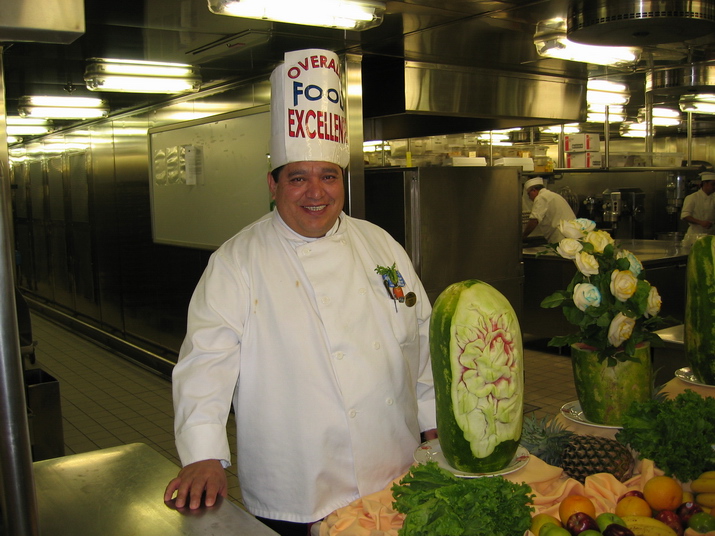 The galley tour, including our head chef.
The Princess Cays (somewhere in the Bahamas)
The weather was fantastic on our last cruise day. We spent it swimming and paddle boating on the cruise line's private island.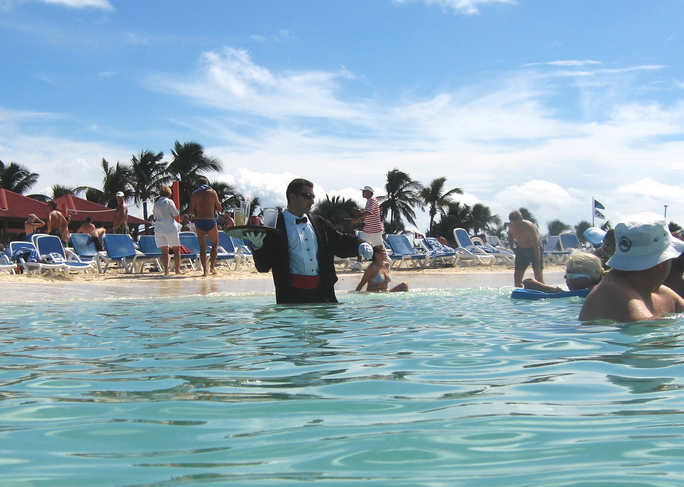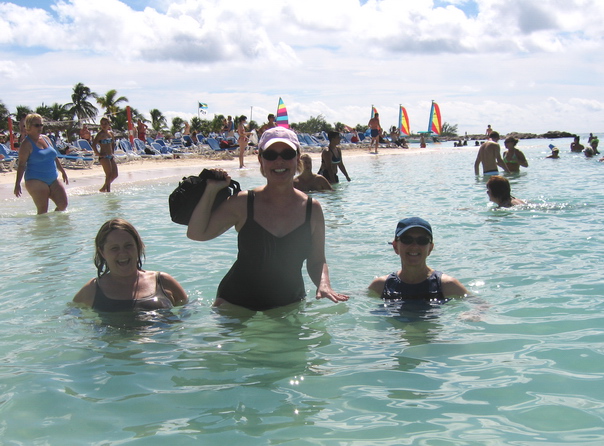 The customer service was first class . Janet, Claudia and Eileen take a dip in the warm Bahamas water.
The Last Night.... :-(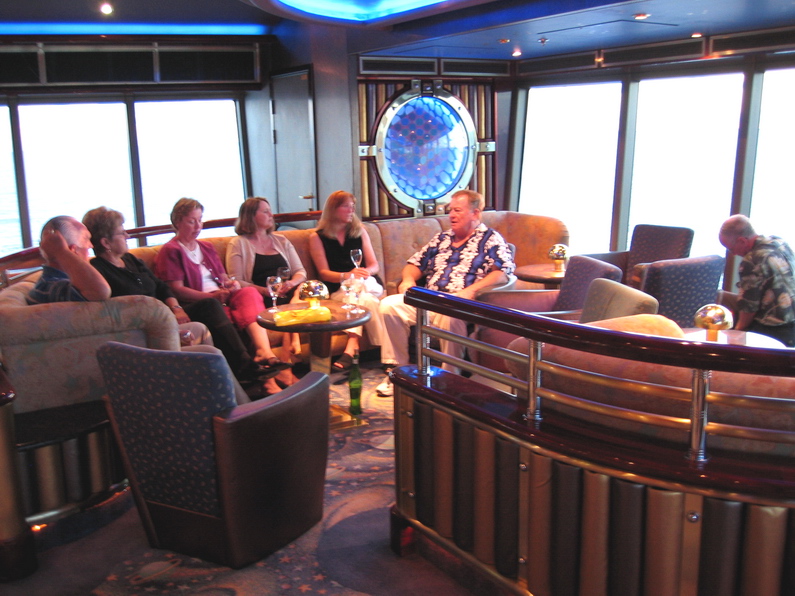 The final group cocktail hour before dinner in Skywalkers Nightclub on the 14th floor.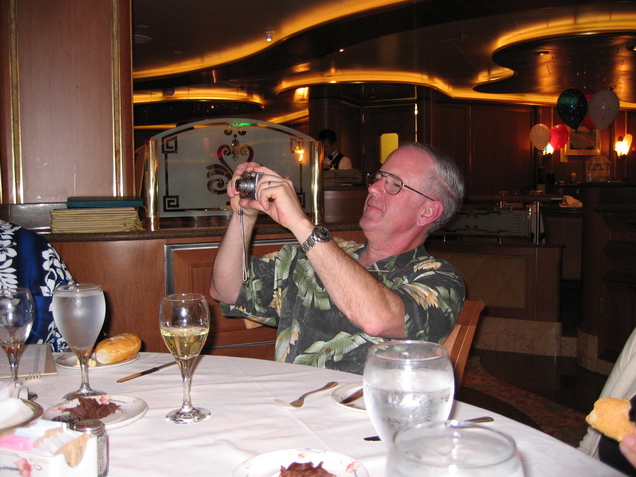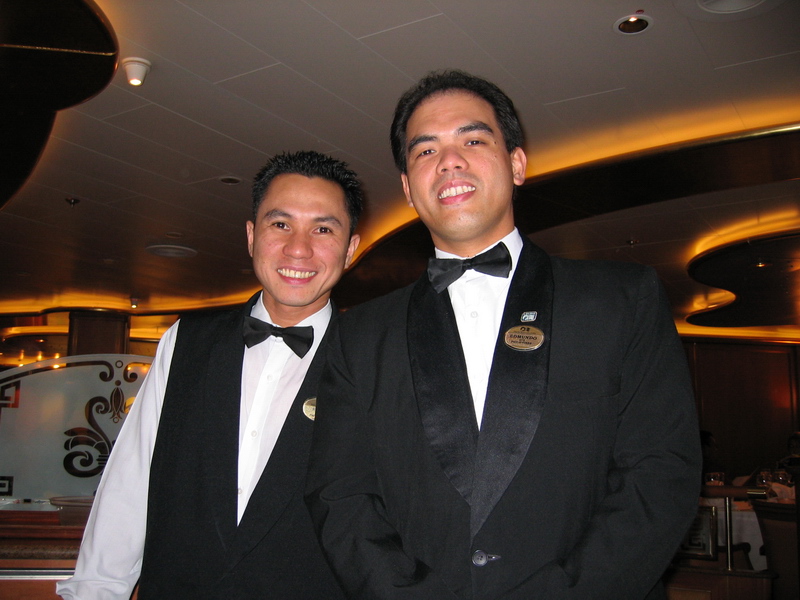 Joe getting the perfect 7 megapixel shot. Our excellent waiter and assistant waiter
One final shot.... we had a running gag among ourselves about how much Claudia looked like Hillary Clinton. One night we convinced a group of people taking a picture that they could have Hillary Clinton in their photo and they happily agreed. To make things even weirder, while they were waiting, they started singing the Hallelujah Chorus....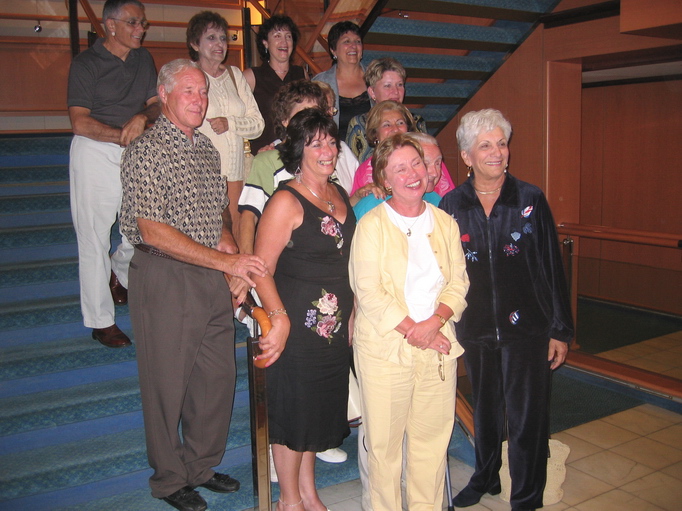 THE END