In mid January 2005, we started thinking about adding a family member, so Eileen began searching out different places that offered cats for adoption. After a few weeks of web surfing and hanging out at PetSmart, the SPCA and Petco, we met Fiona, a very shy feral cat living with her brother Fitz in a Safehaven Animal Sanctuary foster home. Eileen picked her up and the rest is history.
Friday evening, February 4th, 2005
Fiona was delivered to us on Friday night, February 4th, by Ann of Safehaven. Eileen took Fiona to the laundry room where she had set up her food, water, bed, litter box and scratching post. Fiona was so overcome with emotion and thankfulness that she immediately hid behind the washer and has stayed there for the last 16 hours (except for sometime in the middle of the night when she snuck out to have some food and water and try out her new litter box).
Sunday, February 6th, 2005
Fiona is still in hiding behind the dryer, her new home. She's eating well (we can only assume that Andy's not eating her food), but only when she's absolutely alone. Eileen found some of her white hair on the base of her scratching post, so she's found that. We're still awaiting her presence in open spaces.
Tuesday, February 8th, 2005
I received an email today at work from Eileen:
"SUCCESS! It could prove to be a baby step, but that is OK by me! I kind of tricked her into sticking her head out to get some baby food and after I pulled her the rest of the way out and had her purring in my lap, she decided to investigate the room and try to find a better hiding place where I couldn't get her so easily! So far, no luck on her part and lots on mine. She now is going in and out of her approved "hide-a-way" Opening the laundry room door still startles her into running back towards her house, but she will come back out again while I'm still in the room. THAT IS REAL PROGRESS! Unfortunately I had to do some more wash, so I'll just approach her slowly when I go back to visit again. I'm so proud of her!"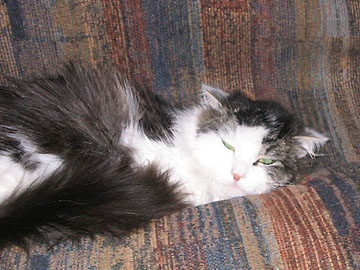 Fiona's Safehaven Animal Sanctuary web picture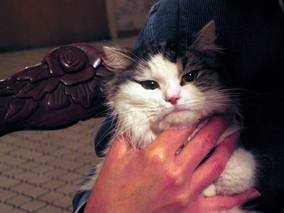 Just arrived at her new home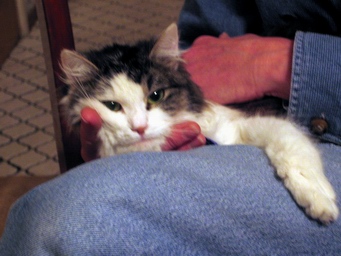 Trying to figure out how she can escape and find someplace to hide?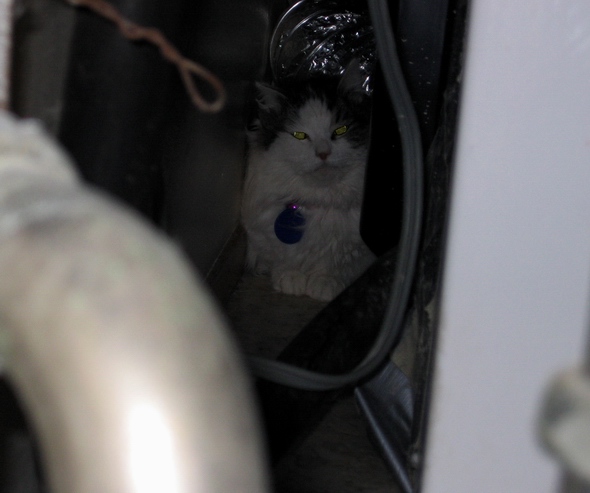 Yes, I'm still hiding.....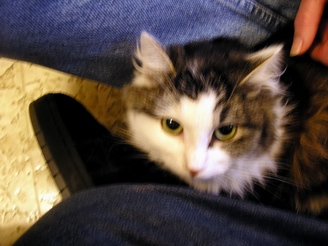 Darn it, she fooled me with the old baby food trick....